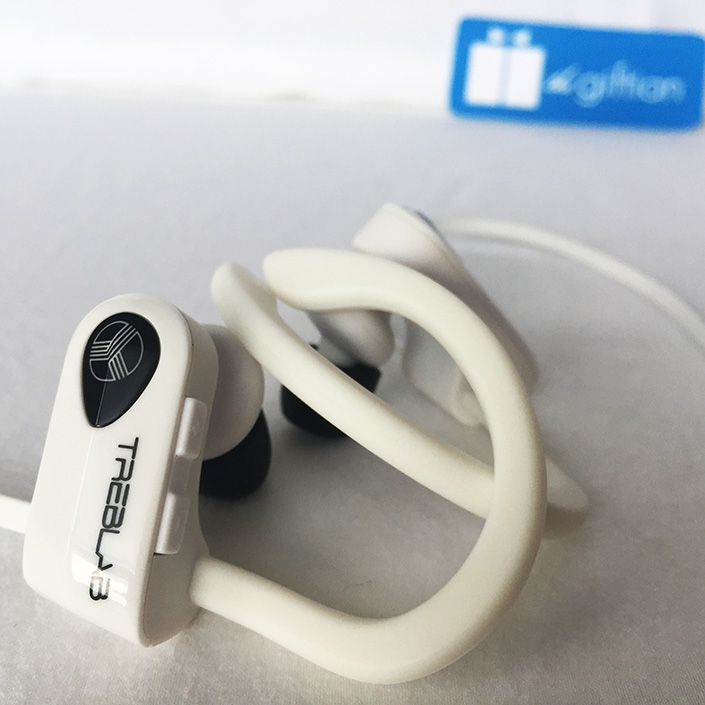 Treblab XR500 Bluetooth Headphones
When you buy a pair of headphones you want to be able to either listen to your music privately, block out surrounding noise, or have the convenience of listening to music while moving around or being active.
The whole purpose of headphones in the first place is to have control of your listening.
When they fall out of your ears, cause discomfort, or butcher the sound quality of your favorite tunes, it kind of defeats their whole purpose in the first place.
You may be left wondering is there any win-win scenario for you here without forking over more money than the actual convenience is really worth. This is where the Treblab headphones swoop in and save the day.
A product that does what you want it to at a very affordable price. Let's go over what you can expect when they arrive in the mail.
What You Get
1 set of Treblab XR500 Bluetooth 4.1 HD Earphones

1 cable adjustment clip

1 carrying case with zipper enclosure

3 sets of foam ear tips with 3 different sizes

3 sets of silicone ear tips with 3 different sizes

1 USB charging cable

1 Treblab XR500 User Manual
Going wireless is a great choice of course because wires just get in the way of life and tangle. It's where technology is migrating if you consider the new iPhone 7 and that it's probably hard to even find a corded phone anymore these days. Our favorite kind of cords are those which are out of the way.
The Treblab headphones do have a couple wires, but they're both the kinds you'll want. The first is the fixed cable which connects both sides of the earphones together. It's typically worn around the back of the neck but you can let the cord hang below your chin too, your call. It's also tangle-free and comes with an adjustable clip thing you can slide for tightening or loosening the cable slack to get a fit perfect for your liking and comfort.
The second wire it comes with is the charging cable. You can plug it in to any standard USB port with the other end plugging into the Treblab earphones. It takes approximately 2 hours to fully charge the battery and then you're good to go for an impressive 9 hours of operating time with up to 250 hours of stand-by time.
The Treblab XR500 earphones are designed for comfort and functionality when it comes to exercise, activity, and movement. The ear tips and ear hooks play a key role in their effectiveness for providing a secure and comfortable fit. They're even rated IPX-7 Waterproof which means they can hold up to any amount of sweat and even if they get wet, but this doesn't mean you can use them underwater so don't go swimming with them.
They include a generous number of different ear tip sizes sets. This provides a level of customization which really helps to keep them where they're supposed to be during use. For a more snug fit and less ambient noise go for the foam ear tips. Don't forget though there are safety precautions for those enjoying these earphones while exercising. If you're running on a road or near traffic it may be wiser to select one of the silicone tip sets so you can hear vehicles approaching or other important noises that may be good for you to be able and hear.
The best way to put them on is by inserting the ear tips first, then adjust the flexible ear hooks over the top and around the back of your ears. They work well with glasses too based on what other customers are saying, just put the glasses on after the earphones.
The Treblab XR500's are compatible with any other Bluetooth device. Our research showed that many customers are enjoying them connected to iphones, androids, and samsungs. If all of this wasn't enough to impress already, with just the three buttons there are 12 separate functions included. Four of these functions are for hands-free phone calls you can receive. We thought this was a tremendous feature to be included in the package deal. You can answer calls, reject calls, end calls, and at the end of the number you can redial. The other functions include on/off, a pairing mode, cancel/end, transfer audio, microphone mute switch, pause/play, volume up/down, and next/previous track.
The Bluetooth 4.1 CSR performs exceptionally well with a reach of up to 38 feet in distance, and are able to connect and sync up with any other 2 bluetooth devices.
The sound quality is most impressive, particularly the bass which is often difficult to come by for a reasonable price with any in-ear class of headphones. It delivers bass that you would only expect to get on the larger style headphones, the ones with a wired connection that look like winter earmuffs. The breadth and spectrum of sound quality is overall excellent with crisp trebles and commanding bass.
To put a cherry on top of all this – the MSRP which is on the box, shows to be $169.99, but currently you can make them yours for about $40!
Here are a few specs we found for the Treblab XR500's which some people were wanting to know:
Driver size: 10mm
Frequency Response: 20Hz – 20kHz
Frequency Range: 2.4GHz – 2.48GHz
For all you active movers, shakers, and music lovers out there wanting affordable wireless earphones – with great bass and sound quality, and that don't fall out of your ears, just click below!
Thanks for visiting! Please feel free to contact us with any questions or drop a comment below!
Charging Your EarPhones
According to the manufacturer, it's important not to leave the earphones on the charger to get the most out of the battery. All you have to do is charge them until the indicator light turns blue, which should take less than 3 hours. They also recommend only using the supplied charging cable that comes in the box.
How to set up Bluetooth
First put at least one of the earphones on so you can hear what's going on and find another device with Bluetooth you'd like to connect to.
To get some syncing action you'll put your earphones in "discovery mode." To do this just press and hold the main button on the right labeled earphone until you see blue and red indicator lights flashing.
Then find and select "Treblab XR500" on the Bluetooth menu for whatever device you want to use them with.
You'll know you're in business when you hear the AI sounding chick say, "connected."
Please note: For the Bluetooth earbuds to work properly the signal has to have a straight path from the device to the earbuds. If the path has any sort of blocks, or the distance between the devices is over 35 feet, the signal might break. This is a normal occurrence for all Bluetooth headphones. So we advise keeping that in mind when using the product.
Can you answer calls with it?
Yes most certainly, but only if you want to.
What is the difference between TREBLAB XR100 and TREBLAB XR500?
The main difference between the Treblab XR500's and the Treblab XR100's is the water resistance rating. The XR100's are rated IPX4, and the XR500's are rated IPX7. So what does that mean? Basically this means they will hold up if they get wet whether from sweating, getting rained on, an intense water balloon fight, or if they're accidentally dropped in water. According to the manufacturer they are not completely water proof, so don't use them at the waterpark or while swimming. If you want to learn more about water ratings for electronic devices, you can get the full scoop here.
Additionally the manufacturer shares that the XR500 design is optimized more for bass and comfort.
How long does it take to fully charge?
It depends on how much juice is left, but with a low battery it takes about 2-3 hours to fully charge.
How do all the buttons work?
It comes with a product manual which includes instructions and details for operating it. Similar to the iPhone it uses only 3 buttons for multiple functions.